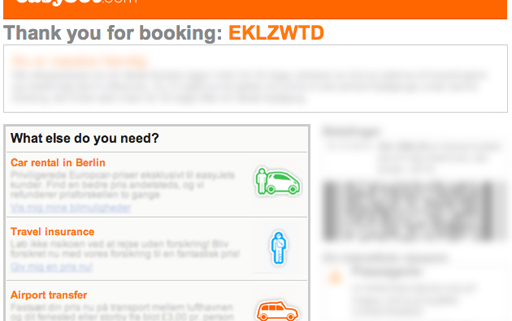 Turning visitors into customers is one of the primary goals of any e-commerce site, but what happens after a customer has successfully placed an order? This person has just filled out numerous form fields and spent their hard-earned money on your site – what a shame it would be to waste this great opportunity for customer engagement by simply re-displaying the order information on the order confirmation page.
This post will present several ideas to get more out of your order confirmation page (the "Thank you" page).
Move user account creation to the order confirmation page.
Moving account creation to the order confirmation page vastly simplifies the checkout process – cutting out steps and the complex thought and decision process the customer would otherwise initiate: Do I trust this site to store my information securely? Do I want an account here? "Which password should I use? Do they also store my card? How often will I shop here again? Will they automatically send me a lot of newsletters?"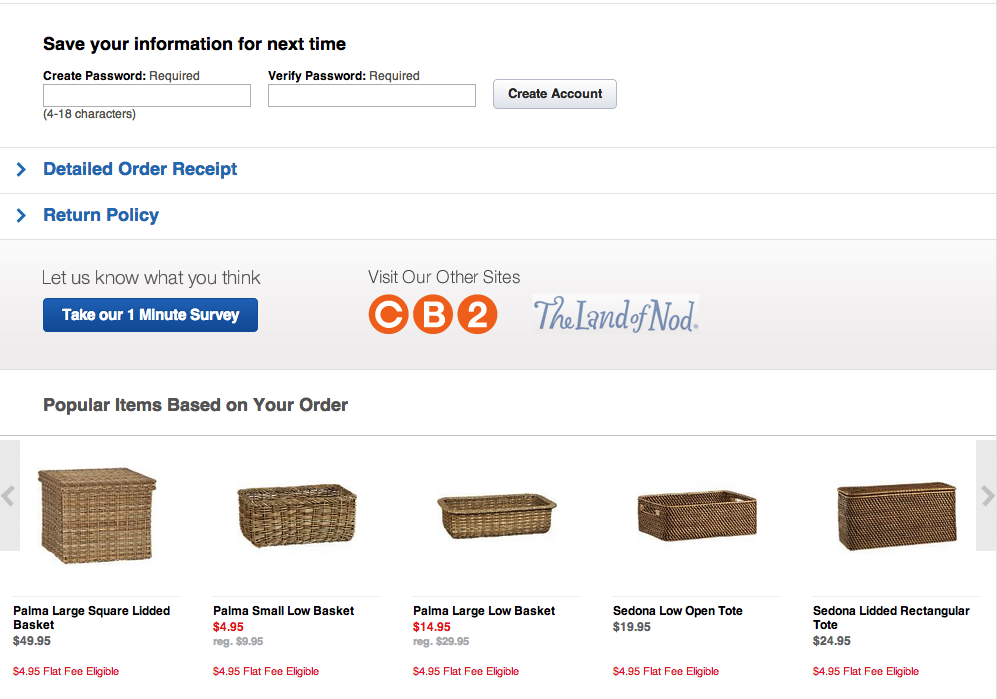 Crate and Barrel place the account creation at the order confirmation page – vastly simplifying the experience of placing the order.
Like newsletter sign-up, we once again also reap the benefits of additional space for promoting the benefits of creating an account. If you use the customer's e-mail address as their username the implementation can be very simple too: just a single password field.
In some cases it may still be preferable to include account creation in the checkout process, depending on industry.
Tapping into the customer's excitement trough Social media
Tapping into the customer's excitement about his purchase and asking him to share it with his friends and acquaintances is an easy way to get free exposure and can establish social proof as well. Nowadays it's used extensively and is probably the most utilized of the ideas in this blog post.

Amazon encourages you to share the product you just purchased resulting in free advertising on Facebook and Twitter and via e-mail.
Besides asking to share the specific purchased item you may suggest "following" your brand on Twitter and "liking" it on Facebook or perhaps offer invites to upcoming events.
Include videos and other resources related to the ordered product
The order confirmation page is the perfect place to have videos and other resources related to the ordered products that the customer can enjoy while waiting for the product to arrive. E.g. for an espresso machine purchase it could be a video guide on "Brewing the perfect cup of espresso", for a road racing bike it could be a 2-page guide on proper care and adjustment of the gears, for software it could be video tutorials, and so on. Anything that will get the customer in a mood where she feels more confident in her purchase is good and can lower cancelled orders – not to mention create a delightful purchasing experience and make sure the customer can hit the ground running as soon as the order is delivered.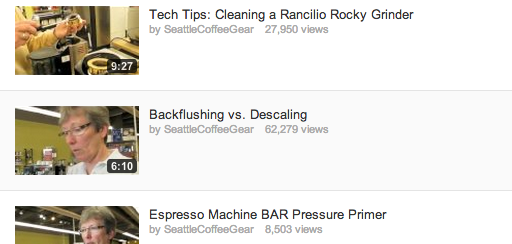 SeattleCoffeeGear already spent time creating a set of wonderful videos for new Rancilio Silvia espresso machine owners – they might as well add those to the order confirmation page for customers who purchase that specific espresso machine.
There's obviously some work involved in creating content and mapping it with the appropriate products. However, it can also be what sets you apart from the competition in a crowded marketplace – showing that you actually care about the customer and her experience with the product(s) she just bought from syou. When executed right, this unexpected and valuable content can create that most rare of things: delight in an online checkout experience.
For an ecommerce store with thousands of products this might be not be feasible to do for each product, but you can start out with creating resource content for each of your top 5-10 product categories or best selling products. Also, you may source content from hobbyists who post guides on personal blogs, forums, YouTube, etc.
No Newsletter sign-up during checkout!
There's really no need to distract the customer with newsletter sign-up as they're working their way through your checkout form in a heroic effort to give you their cash. Instead, ask the customer on the order confirmation page, after a customer has completed the purchase.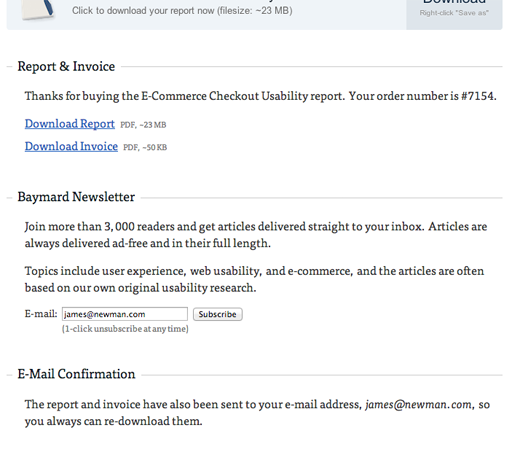 Since you already have their e-mail address, the implementation can be very simple, with a link or button that you simply click to subscribe , or alternatively you can have a pre- filled e-mail field (so the customer can use another e-mail address – particularly useful for B2B audiences).
One major advantage of moving the newsletter sign-up to the order confirmation page is that you have much more space to promote the benefits of the newsletter. Traditionally, when newsletter sign-up is part of the checkout process, you have to balance advertising the benefits of the newsletter with the clutter added to the checkout form. On the order confirmation page you don't have this same struggle and can dedicate an entire section of the page to newsletter sign-up its advantages. If you have multiple newsletters, this only compounds the benefit of moving sign-up to the order confirmation page.
Add cross selling to the order confirmation page.
The appeal of cross selling is obvious but throwing a bunch of deals in your customer's face just after he/she added a product to the cart can also scare customers away and get in the way of people actually buying the product. By moving cross sell deals to the order confirmation page you get the best of both worlds: you get a chance to offer additional products but without interrupting or scaring away people who want to buy from you.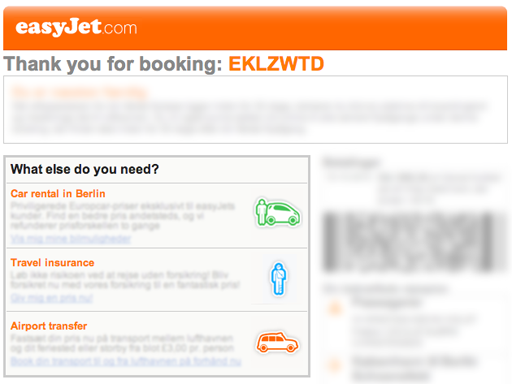 In the travel industry you'll often see cross sell deals on hotels, travel insurance, and car rentals on the order confirmation email. This allows the site to keep the checkout process clean and seamless but at the same time keep the cross sell opportunity.
By placing cross sell deals at the order confirmation page itself the customer can add products to his order without having to resubmit any payment data. Each cross sell deal could have an "Add to order" button, allowing the customer to purchase them with a single click. You may even add a sense of urgency by informing the customer about the limited time window they have before the order is processed, e.g. "In the next 5 minutes you can add one of these super deals on accessories for your XYZ product at a 25% discount". While requiring a bit more technical integration this is a powerful way to cross sell additional products in a truly seamless manner while also simplifying the checkout process.
https://merchantsherpas.com/images/blog-order-checkout-5.png
384
512
dsadmin
/images/Merchant-Sherpas-340x156-v3-1.png
dsadmin
2017-09-18 09:58:26
2019-12-02 12:59:53
Order Confirmation Page For Customer Engagement